Pine Cove City is Pine Cove's summer day camp program returning all the way from Texas! Pine Cove has been in ministry for 55 years! Be a part of this wildly popular camp that has waiting lists all over the country!
This weeklong camp is for students who are enrolled in Kindergarten through 5th grade in the 2021-2022 school year. Camp is from 9:00 AM-4:00 PM, and includes a climbing wall, inflatables, water slide, team games, Bible studies, and funny skits! There is a closing celebration with families on Friday at 4:00 PM.
After five days with some of the most fun and exciting college students in the country, your child will be energized for the summer and ready for their own spiritual journey. Campers will experience Jesus through Bible study, worship, and time with their counselor as well as participate in tons of great camp activities. Prepare for the journey at Pine Cove City!
The cost of Pine Cove City is $298. Register NOW!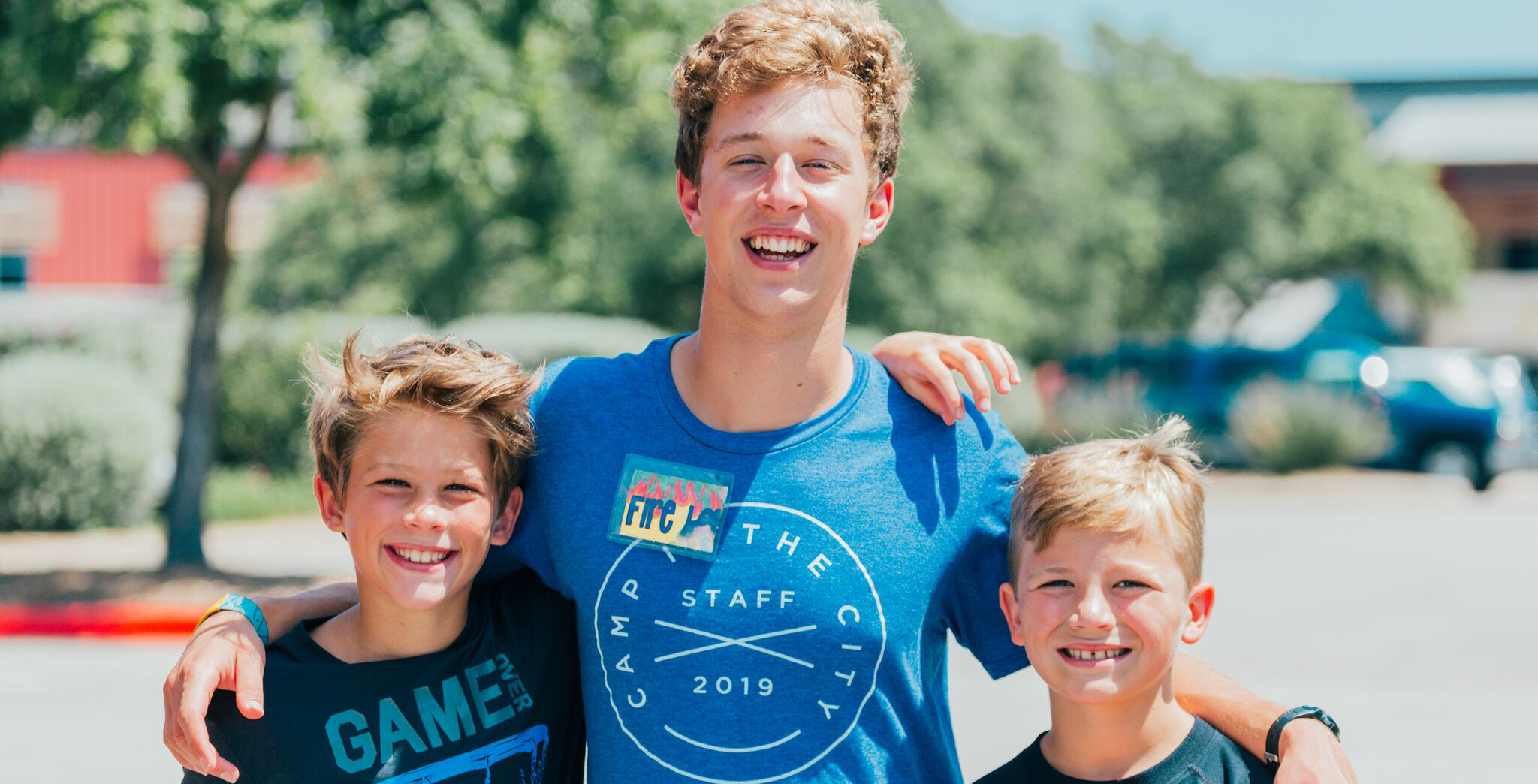 Be A Camp Host Home
Thanks for your interest in being a potential host home for Pine Cove City Staffers. This is such a unique serving opportunity that has blessed many of our families in the past several years at North Metro Church.

A host home hosts a minimum of 3 staff members of the same gender. They arrive on the evening of Saturday, June 4, 2022 and depart on the morning of Saturday, June 11, 2022.

Some of the required components of a host home are:
Provide Continental Breakfast Daily
Provide dinner 3 nights during the week (these nights are TBD)
Provide a space where all staffers can stay together with access to a bathroom. No more than one staffer can sleep in a bed, regardless of size, but they travel with air mattresses and are used to sleeping on them.
Lunches are provided by NMC.
Staffers have access to shared vehicles that provide their transportation to and from the church each day. For additional questions, please feel free to contact Kaylee at khenderson@northmetro.org.
Financial Aid Campaign
North Metro Church is pleased to announce its partnership with Pine Cove City. This is our single big event for the summer and we want to be sure that lots of our families and friends can attend!
If your child is currently enrolled in K-5th grade in the 2021-2022 school year, you are eligible for the financial assistance campaign. The sign-up fee for Pine Cove City is $298 for the week. Details for financial assistance will be revealed on Sunday, February 6 at the 9:30am and 11:30am worship services at North Metro Church. If you are unable to attend, watch us live at northmetro.org.
Pine Cove City
Frequently Asked Questions
Who is this camp for?
Pine Cove City is for kids who are currently enrolled in Kindergarten through 5th grade in the 2021-2022 school year.
When is camp?
Camp is June 6-10, 2022 from 9:00am-4:00pm.
Where is camp?
Camp is right here at North Metro Church.
How much is camp?
$298 for the week. Kids bring their own lunch every day, and Pine Cove City provides a snack.
If my child has an allergy can I bring their snack?
Yes, a snack can be packed for them!
How can I sign up?
Registration is NOW OPEN! Click the button below.
Is this camp only for kids at NMC?
Nope! We were excited to welcome kids from all over last year.
How many campers will be there? How many camp staff?
We are able to take up to 528 campers and there will be 105 staff, plus medical personnel.
Do you still need host homes for camp staff?
Yes! Email Kaylee Henderson at khenderson@northmetro.org for more information. A Host Home takes in 3-6 college staff that are counselors for the week.
Can we drop our kids off early and/or pick them up late?
No, in order for your child to have the best camp experience possible, we ask that they are dropped off no earlier than 9:00am and picked up no later than 4:00pm each day.
Can someone else pick up my child?
Yes, but they will need to provide the four-digit pickup code when they arrive to get your child.